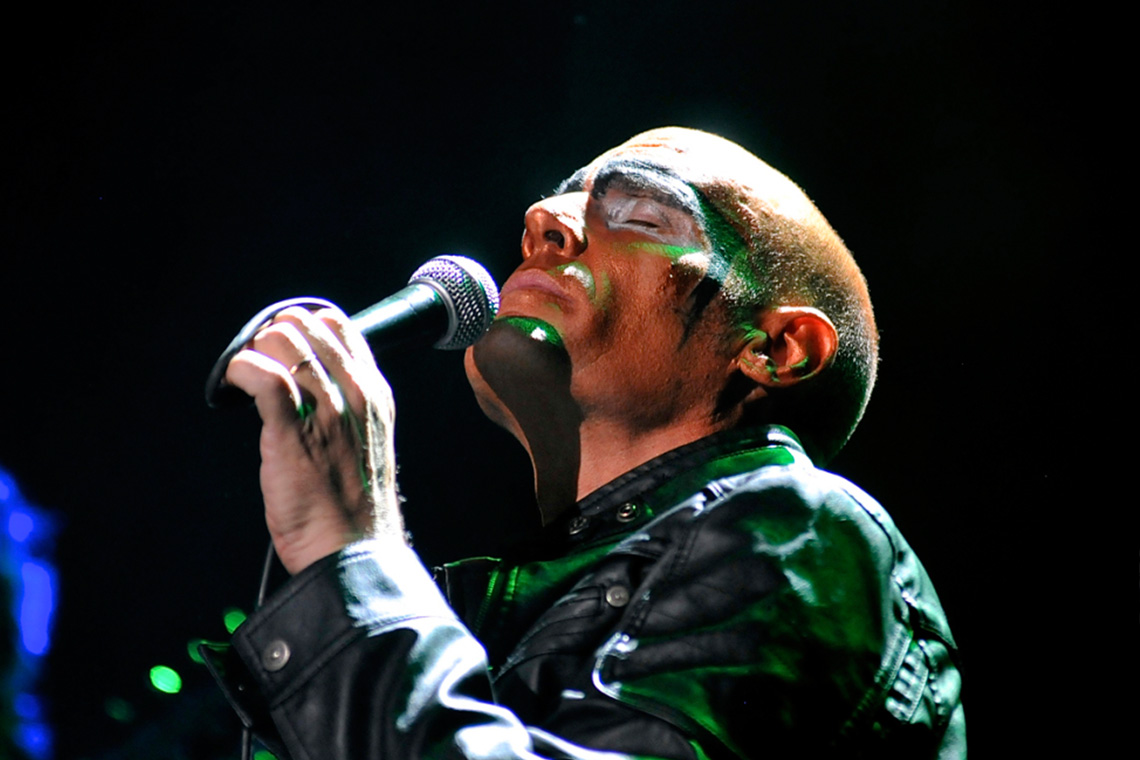 Una excelente partitura no escrita
Al momento de comenzar la cuarta canción del recital que el grupo Genetics ofreció anteanoche en la Asociación Cultural Armenia hubo un problema con la amplificación de la guitarra acústica. Para superar el bache alguien del público le propuso al cantante: "Entonces contate algo, como Peter". Se refería a Peter Gabriel y a uno de esos relatos que hacía entre un tema y el siguiente en la época en la que era el joven cantante de Genesis. La referencia del oyente a Gabriel fue porque Genetics es una banda que interpreta la música del Génesis.
Sin embargo, el cantante se declaró falto de talento para esas cuestiones discursivas: "Soy un humilde imitador", dijo. Claro, el plan de esa noche no era improvisar sino recrear –perdón, una palabra más adecuada sería clonar– a la banda Genesis para interpretar nada menos que el disco completo Foxtrot, al cumplirse los 40 años de su publicación. Todo un acontecimiento para los fanáticos de este grupo del rock sinfónico.
Es por esto que habrá que contradecir al cantante. Hay que tener talento para imitar bien y esta banda lo tiene. Esto no significa que uno pueda cerrar los ojos y escuchar a Gabriel en la voz de Ignacio Rodríguez Genta, el frontman de Genetics. De hecho, el clon local tiene menos fiato que el original. Pero eso no es lo importante. Porque el valor real de esta propuesta no es imitar exactamente un timbre de voz sino plasmar la música en su totalidad, tal como fue creada. Con su color, este cantante interpretó las mismas notas que puso Gabriel en ese disco y en otros. Y es a esto hacia adonde apuntan estas líneas.
Primero veamos qué sucedió anteanoche. Genetics dio un concierto excelente. La clonación no fue totalmente perfecta, fue totalmente real y creíble. El disco Foxtrot sonó completo. Sólo que entre la cara A y la B el grupo incluyó varios éxitos de otros LP, especialmente de Selling England by The Pound – "Firth Of Fifth", "I Know What I Like (In Your Wardrobe)" y "Cinema Show"– que sonaron en versiones excelsas. Hay que hacer inventario de lo que tuvo el concierto: los fraseos del cantante, respetando cada nota, la finísima labor de Horacio Pozzo, tanto en los teclados como en la guitarra (al momento de tocar "Horizons") y la del resto del grupo, que también fue destacable; la sonoridad setentista bien lograda, la puesta en escena, que incluyó trabajo de iluminación, vestuario y proyecciones, y el auditorio, que permitió sonar con un volumen muy alto y con distorsiones elevadas sin perder la claridad que esta música demanda.
No cabe duda de que la tarea del grupo seguramente fue ardua. Desde esos temas que evidentemente tocaron tantas veces (tres de los integrantes formaron, a fines de los ochenta el grupo Rael, también dedicado a la música de Genesis) hasta obras como Supper's Ready, de largo aliento, de más de 20 minutos y 7 movimientos. Y aquí está el valor agregado de este tipo de trabajos. Por cierto que es un buen acontecimiento para los fanáticos de Genesis. Pero este tipo de producción –diferente de la de los imitadores de Sabina, Arjona, Los Beatles– da la oportunidad de escuchar música muy bien compuesta que nunca se escucha en vivo. Más allá de que la haya escrito Genesis y el disco se llame Foxtrot, ahí hay composiciones exquisitas y su mayor valor está en lo "escrito", más que en el tipo de guitarra o el bajo que se utilice. Porque bien podría sonar con otros instrumentos. El problema sería si faltaran esas invenciones a dos voces tan bachianas que Tony Banks compuso para la introducción de "Time Table" o la progresión armónica de "Watcher of the Skies" y el crescendo que llega a la distorsión, o si el cantante planchara las melodías de Supper's Ready.
A pesar de que a muchos esto le genere urticaria, buena parte del rock progresivo tiene en común con la música clásica el hecho de que las notas no están puestas porque sí. Por lo tanto no da lo mismo si se tocan o si no. Y es por esto que además de las grabaciones, sería necesario que trabajos como éste, de Genesis, tenga registro total (no sólo partitura de piano) en pentagramas. Así muchos podrían acercarse a esta obra de diversas maneras. Por ahora tenemos a grupos como Genetics, que son fieles a esa partitura no escrita.
Por Mauro Apicella
http://www.lanacion.com.ar/1472752-una-excelente-partitura-no-escrita